Augusztusban újabb külföldi DJ-guruk érkeznek a Zöld Pardonba. Augusztus 19-én Roni Size és MC Dynamite, augusztus 21-én pedig Adam Freeland szórakoztatja majd a drum and bass- és breakbeat-rajongó közönséget.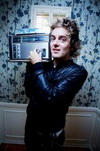 Roni Size, az egyik leghíresebb drum and bass DJ augusztus 19-én szerdán látogat el a ZP-be. Az USA-ban és Európában is közkedvelt bristoli DJ korán kezdte pályáját, 16 évesen már az iskolapad helyett a lemezeket koptatta, aminek hamar meg is lett az eredménye, hiszen nem csak a közönségből verbuválódott hatalmas rajongótábora, de a szakma is rögtön elismerte tehetségét.
Roni Size MC Dynamitet-al teszi tiszteletét a Zöld Pardon deszkáin.
http://www.myspace.com/ronisizeuk
Adam Freeland, a legtechnikásabb lemezlovas augusztus 21-én érkezik a ZP-be, hogy elkápráztassa a breakbeat ütemek imádóit. A magyar közönség körében rendkívül népszerű, a DJ-k királyaként is emlegetett zenész már több mint 10 alkalommal látogatott el hozzánk, hogy megtáncoltassa a rajongókat.